Why Estate Plans Are Worthless – Part I
Mar 22, 2018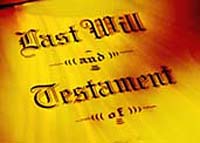 I hate to tell you this, but your estate plan may be worthless.  So many times, I have had clients sign their documents and declare "I'm so glad that is done" or "I can sleep now" or "Hopefully, my children will stop pestering me about this."  However, the reality is that signing the documents is rarely the end of the process, and while it is not the beginning, it is likely the midpoint at best.
You paid good money for a well-crafted plan with well-drafted documents.  Maybe you signed them in a oak paneled conference room with a million dollar view and all of the solemnity of a treaty signing, but the best laid plans often go awry when there is no follow through.  When current and complete, estate plans have tremendous value and utility.  However, as one popular advertisement states, "Life comes at you fast."  All of the financial magazines and investment gurus will tell you to consider updating your estate plan when major life events occur, i.e., death of a loved one, divorce, marriage, birth of children or grandchildren.  No doubt, that is sound advice.
However, the more common issue that I see is that after signing the documents, clients fail to follow through with the mundane tasks necessary to get their affairs in order to carry out their plans.  These tasks include retitling property, changing beneficiary designations, transferring property to a trust and the like.  Instead, the documents arrive in a binder which is placed on a shelf where it will remain until the inevitable occurs.  The problem is that at that point, it is too late to change anything, and the executors find themselves having to "do" or undo" what should have been done years earlier.  So, this is the first installment in a series of posts which will address ways in which you can prevent your estate plan from being worthless…………no matter how much you paid for that leather-bound binder of documents.